In Recovery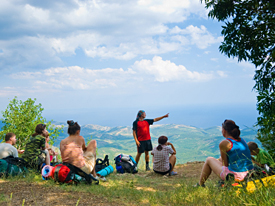 In The Rooms HITCHes the addiction community to a wide array of online social networking tools to facilitate meetings among like minded people and assist in their recovery. You can upload pictures and videos, chat online, attend meetings with people all around the world, write journal entries about your experiences, create blogs, forums and communicate with people in the Global Recovery Community and share your experience, strength and hope.

Remember, there is no substitute for real-world interpersonal fellowship among people in recovery. In The Rooms commits to augmenting, not replacing, ongoing addiction treatment programs, 12-Step meetings and other support groups. As an information resource and a social network, In The Rooms is an exceptional tool that complements real-life recovery programs.
IN THE ROOMS, YOU CAN
Select Level of Privacy
Find Old Friends
Make New Friends
Seek Help in Recovery
Create a Group
Learn about Addiction
Listen to Speaker Tapes
and so much more...
After you register, click on the confirmation link in your email (If you don't see the email, check your spam folder)

In The Rooms is the premier, most comprehensive online social network for the Recovery community worldwide. Our mantra is H.I.T.C.H and our mission is to Help, Inform, Touch, Connect, and Heal those already in Recovery, seeking Recovery and the family and friends supporting Recovery around the world.